Candu Will Do Guarantee™ Summary
We want to make things right.
Our commitment includes fixing all those things so many companies get wrong. We want to change how you look at home repair and maintenance — for the better.
Transparency, clear intentions and a "what you see is what you get" attitude are essential to our success and your happiness. No more doubting that the job will be completed to your satisfaction. If we don't get it right the first time, we'll make it right.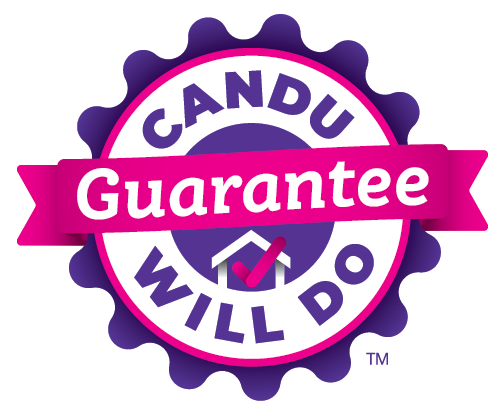 The Candu Will Do Guarantee includes:
6-Month Extended Repair Promise.
Every flat-fee service job is backed by the Candu™ Pro for a full six (6) months. If something goes wrong after your repair within 6 months, your Candu Pro will send someone out to fix the problem, at no cost to you. As many times as it takes.
Quality of Service Promise.
If you're unhappy with the quality of the service from your Candu Pro, we'll have that Candu Pro — or another Candu Pro — come back at no cost to you to make things right. If you're still not satisfied, we'll give you a refund.
Peace of Mind Property Damage Protection.
In the event of property damages during repair with a Candu Pro, we'll act as your advocate and work quickly to resolve any issues.
Vetted Candu Pro Promise.
We handpick each Candu Pro to make sure they have been highly rated through customer surveys and require that they conduct background checks on themselves and their employees.
Learn more by reviewing our Candu Will Do Guarantee.